In Europe, Exciting Events hosted the "Fortnite event of the year" in Norwich. To compare it to the Fyre Festival would be silly but attendees were paying for a dedicated Fortnite event. Tickets were £12 (roughly $16) and unlimited access wristbands were £20 ($26).
At the event were a climbing wall, archery, go-karts, and a truck with a trampoline in it. It was more of a carnival rather than a Fortnite event. Epic Games had nothing to do with the event.
You could play Fortnite but you had to pay to play at the venue which goes against its free-to-play model. The lines were over 90 minutes long to play the game. Many parents were rightfully angry as the ticket prices were quite high, lines were long, activities were poorly, the event was poorly staffed, and people had to wait in the cold. Refunds were provided for people on the first day of the event through Facebook but the page has closed.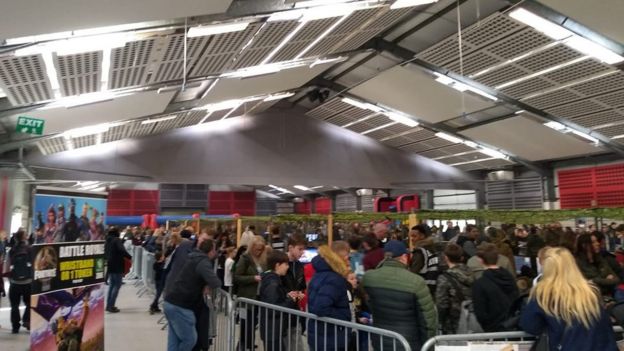 Exciting Events will not continue all future Fortnite events in other countries for the year. The organizer, Shaun Lord, defended the event in Norwich according to EDP. 
"I would love it to be an annual thing. Those people who didn't get value for money on activities, we have got to make that better next year. It is highlighted to us now that we didn't have enough of that.
Lord stated the event was for children and many of the activities were oriented towards them. He stated they greatly improved it on the second day for people. According to the EDP survey, most people were dissatisfied with the event and would most likely not come back. There were only 72 consoles for over 2800 people. Kids would wait over two hours and if they died, they were forced off the console.
They are now being sued by Epic Games. An Epic spokesman said, "The quality of our player experience is incredibly important to us, whether it's inside the game or at official public events like last year's Fortnite Pro-Am." Due to the lawsuit, Exciting Events is no longer trading on the stock market. All assets will be turned into cash and the funds distributed among creditors, including the HMRC.
Pictures of the Events
Sources