Today's Nintendo Direct was focused on Splatoon 2. The direct included more story, guns, and gameplay. It also included more online social features and is the first game that will use the Nintendo Switch Online App.
New Equipment:
Gears are the new equipment which will include buffs for each style of clothing. There are hats, shirts, and shoes! They will affect aspects of the multiplayer game. Some examples include faster respawn time, faster movement, and adjusted speed. Gear will be sold by fun characters called: Jelfonzo, Flow and Bisk! Murch the Urchin can add more buffs to your gear or remove some as well. Clothing is more important than ever in Splatoon 2.
Weapons will still be sold by Sheldon from Splatoon. You can fast-forward through his dialogue. There are three types of weapons: Main, sub, and Special! Some of the guns have been readjusted for Splatoon 2.
Standard Shooters now include a dodge roll!
Rollers can be used vertically
Chargers can now store the charge while becoming a squid
Splashers throws a bucket of ink
Blasters shoot blasts of ink
New Weapons:  The Clash Blaster-short range gun that leads to explosions. Flingza Roller: It can change shape and throw even further. Goo Toober is a charger that can charge for a longer time. Dapple Dualies: lighter guns which mean more manoeuvrability around the map.
New Subweapons: Autobombs that can track enemies and Toxic Mist which creates a poison Area of Effect. There are more to come
Special: Fill the gauge to use the special. You can now see if enemies have their specials to prepare yourself ahead of time but looking at the scoreboard.
Tetra missles: lock on missile barrage. Ink Jet: Fly and shoot blasts of ink. Sting ray: a charger that can shoot through walls. Splashdown: Aoe downward smash. Inkstorm: rains ink around the map. Bomb launcher: throws a array of bombs. Ink Armor: Armors up you and nearby allies with Ink. Negates damage. Baller: giant explosive hamster ball.
Game Modes:
There are new and returning game modes for Splatoon 2. Turf War still exists and focuses on inking as much of the territory as possible. There is also a new Dancing/Rhythm game in Inkopolis Square, the new hub. Amibos will give you access to new gear and save your Squids/Kids gear setting. A horde mode called Salmon Run will grant you access to new gear if you can survive. It'll also include unique bosses such as Steel Eel, Flyfish, and Steel Head that were revealed during the direct. During this mode, the environment, weather, and light will change.
Ranked Battles:
Ranked Matches will be held in three game modes.
Tower Control: Stay on the moving tower platform to move it towards the goal. It'll stop at designated areas which will make for some intense action. Splatzones: King of the Hill mode. Rainmaker: Capture the flag but it's a super weapon. Protect the weilder at all cost to earn points. Each mode will have its own rank and if you're really good, you can move up two ranks! You can team up with friends as a pair or as a team of 4.
Of course, there are new maps: The Reef, Mussleforge fitness, Inklet Art Academy, Starfish Mainstage, Humpback Pump Track, Sturgeon Shipyard, Port Mackerel and Moray Towers. I hope you enjoy the Marine based puns as much as I did.
Two new girls: Marina and Pearl. They'll be your new SplatFest host! In fact, the next SplatFest will be on July 15th in the free online demo. It's Ice Cream vs Cupcakes!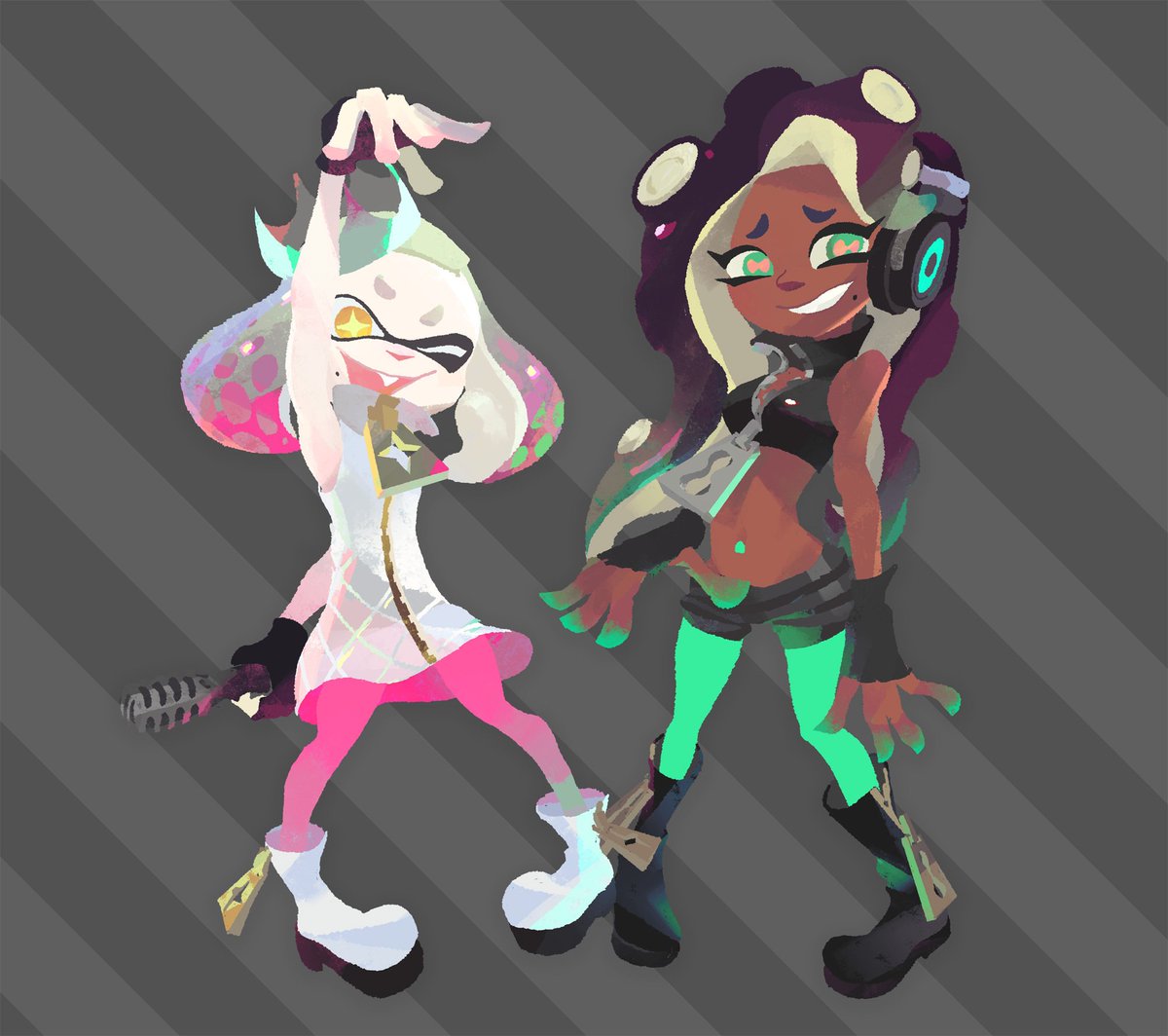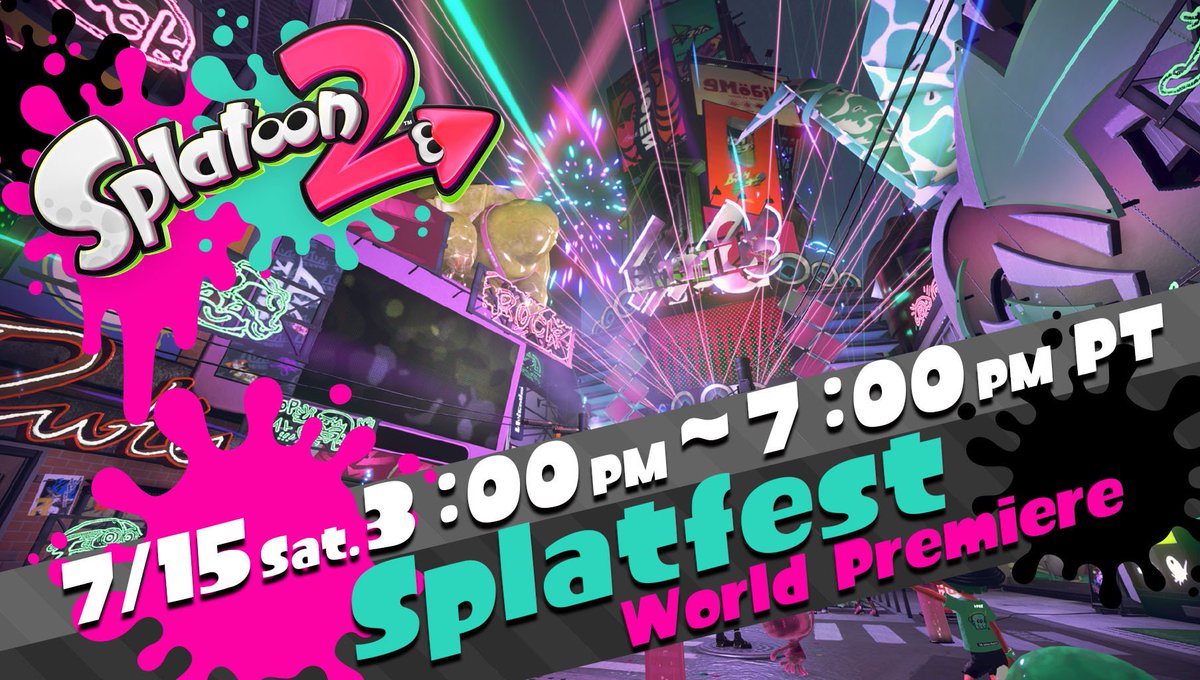 The Online App: SplatNet 2

Nintendo will launch a companion app with Nintendo Switch Online App called SplatNet2. It will co-release with the game on July 21st exclusively on smartphones. The app will include online features for Splatoon 2's online multiplayer such as:
Rank Listing
Stats
Different Stage Schedules
How much your characters "Inked"
Voice Chat
Create Private Lobbies with friends
The service is free for the rest of the year. Once 2018 beings, it'll cost $19.99 annually which is cheaper than Xbox and PlayStation. More info regarding the service will be announced over the upcoming months.
MiiVerse 2?
Players can send each other pictures that they've drawn into private mailboxes. They can also be displayed in the game similar to Splatoon on Wii U. They'll be displayed Inkoplis Square and certain maps in the game. The pictures can be shared across connected social media as well.
Future Content
Splat Brella Gun which can shield and dash all in one weapon. Bubble Blower that creates floating landmines that can spread the ink around the map. Of course, there will be new gear and new stages. There is scheduled to have about a year of updates and 2 years of Splatfest! Nintendo has been doing a great job of keep their IP's fresh and keeps fans in for a longer time than most companies these days. So this game will continue to be updated so don't get cooked…Stay off the hook!
Sources: