Gearbox has announced that Borderlands 3 will launch on September 13th. They also release a new trailer that showcased the Vault Hunters' names and abilities. They also revealed the antagonists' names: The Calypso Twins. More gameplay details will be showcased on May 1st during Gearbox's live stream.
Borderlands 3 will be on PlayStation 4, Windows PC, and Xbox One on Sept. 13. It will also be an Epic Store exclusive until April 2020 for PC players.
The Vault Hunters:
Moze as The Gunner: When Moze needs backup, she digistructs her mech – Iron Bear – for a sucker punch of additional firepower.
Amara as The Siren: A confident, capable brawler with the ability to summon ethereal fists, Amara uses her Siren powers to smash her enemies.
FL4K as The Beastmaster: FL4K lives for the hunt. So do the loyal beasts that follow their master's every command. Their preferred prey? Unsuspecting bandits, those poor suckers.
Zane as The Operative: Specializing in battlefield gadgetry, Zane is extremely proficient at slipping into combat, creating chaos, and sneaking back out as if he were never there
Co-Op
According to the facts sheet, you'll be able to level up easier with friends regardless of your progress in the story. You'll still be able to play with anyone online or via split screen. Your loot will also be exclusive to you so no need to argue with friends over specific items.
The Bundles
If you pre-order the game, you'll get gold-skin guns in the beginning. They have no stat differences.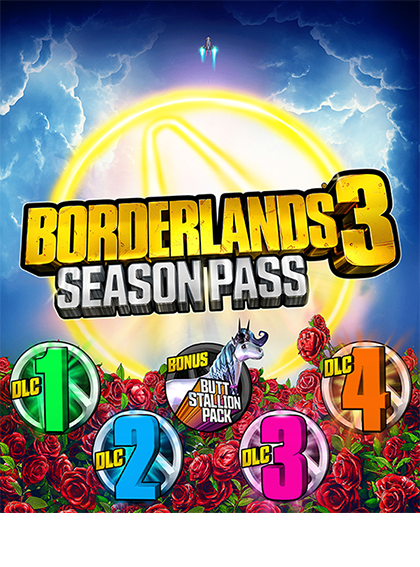 Borderlands 3 Deluxe Edition ($79.99)
Includes the base game, as well as bonus digital content:
Retro Cosmetic Pack: Vault Hunter head & skin, Echo Device skin, weapon skin
Neon Cosmetic Pack: Vault Hunter head & skin, Echo Device skin, weapon trinket
Gearbox Cosmetic Pack: weapon skin, weapon trinket
Toy Box Weapon Pack: 2 Toy guns, Toy grenade mod, weapon trinket
XP & Loot Drop Boost Mods
Borderlands 3 Super Deluxe Edition ($99.99)
Includes all the bonus digital content and pre-order bonus of the Deluxe Edition plus the Borderlands 3 season pass, which includes:
Four (4) campaign DLC packs featuring new stories, missions, and challenges;
Butt Stallion weapon skin, weapon trinket, and grenade mod.
Borderlands 3 Diamond Loot Chest Collector's Edition ($249.99)
Includes the full game, season pass, and all bonus digital content and pre-order bonus of the Super Deluxe Edition, plus:
Diamond Loot Chest Replica
Borderlands 3 character figurines (x10) including the four new Vault Hunters, the Calypso Twins, and other characters from the Borderlands universe (approximately 3 inches tall)
Sanctuary 3 snap model
Vault Key keychains (x4)
Cloth galaxy map
Character art lithographs (x5): Character prints starring the new Vault Hunters and Calypso Twins
Borderlands 3 Steelbook case